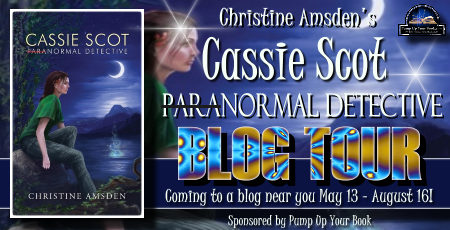 Cassie Scot is the ungifted daughter of powerful sorcerers, born between worlds but belonging to neither. At 21, all she wants is to find a place for herself, but earning a living as a private investigator in the shadow of her family's reputation isn't easy. When she is pulled into a paranormal investigation, and tempted by a powerful and handsome sorcerer, she will have to decide where she truly belongs.
Purchase at:
Cassie came to me, I didn't go to her.
I finished
The Immortality Virus
late in the fall of 2008, and though I took pride in my second novel, I felt worn out (creatively). When the new year came, bringing with it the opportunity for all kinds of writerly resolutions, I decided I needed to take the year off. I would read, blog, journal, but otherwise give my muse time to heal.
I didn't make it a year. It turns out, I really am a writer. Writers write. We can't not write. Taking the pressure off my muse did turn out to have been a great idea, but putting a time frame on it was a bit naive.
Cassie came to me in mid-February, as I played on the floor with me (then) 9-month-old daughter. I won't go so far as to say she popped into my head fully formed, but it was close. I sat bolt upright, my eyes probably doing that cartoon bulge, as a light bulb appeared over my head.
What if… What if the hero of a fantasy story was the only one in it without magic?
I wrote the first line of the story as soon as my daughter went down for a nap. It read: "My parents think the longer the name, the more powerful the sorcerer, so they named me Nicolas Merlin Apollonius Roger Scot. You can call me Nick."
Okay, so it needed work. It didn't take me long to realize I wanted a female heroine. Nicolas (who does not go by Nick and might set you on fire if you tried) became the oldest of Cassie's siblings.
After that, Cassie told me new things about herself every day. I had a rough draft by the end of June.
Christine Amsden has been writing science fiction and fantasy for as long as she can remember. She loves to write and it is her dream that others will be inspired by this love and by her stories. Speculative fiction is fun, magical, and imaginative but great speculative fiction is about real people defining themselves through extraordinary situations. Christine writes primarily about people and it is in this way that she strives to make science fiction and fantasy meaningful for everyone.
At the age of 16, Christine was diagnosed with Stargardt's Disease, a condition that effects the retina and causes a loss of central vision. She is now legally blind, but has not let this slow her down or get in the way of her dreams. (You can learn more here.)
In addition to writing, Christine teaches workshops on writing at Savvy Authors. She also does some freelance editing work.
Christine currently lives in the Kansas City area with her husband, Austin, who has been her biggest fan and the key to her success. They have two beautiful children.
Her latest book is Cassie Scot: ParaNormal Detective
WATCH THE TRAILER!
Pump Up Your Book and Christine Amsden are teaming up to give you a chance to win a new Kindle Fire HD!
Here's how it works:
Each person will enter this giveaway by liking, following, subscribing and tweeting about this giveaway through the Rafflecopter form placed on blogs throughout the tour. If your blog isn't set up to accept the form, we offer another way for you to participate by having people comment on your blog then directing them to where they can fill out the form to gain more entries. This promotion will run from May 13 - August 16. The winner will be chosen randomly by Rafflecopter, contacted by email and announced on August 17, 2013. Each blogger who participates in the
Cassie Scot:

Para

Normal Detective
virtual book tour is eligible to enter and win. Visit each blog stop below to gain more entries as the Rafflecopter widget will be placed on each blog for the duration of the tour. Good luck everyone!
ENTER TO WIN!
a Rafflecopter giveaway
------------------------------------------------------------
Cassie Scot: ParaNormal Detective Virtual Book Publicity Tour Schedule
------------------------------------------------------------
--------------------------------------------------------------