When author and city-slicker Deb Elkink fell in love and married an introverted cowboy, she moved from her bright lights to his isolated cattle ranch far off in the prairie grasslands. Still—between learning to pilot a light aircraft, sewing for a costume rental store, and cooking for branding crews of a hundred—Deb graduated with a B.A. in Communications from Bethel University in St. Paul, MN; she also holds an M.A. in Theology (both
summa cum laude
).
Her award-winning debut novel, THE THIRD GRACE, is set in the contrasting locales of
Parisian street
and Nebraskan farmyard, and incorporates Greek mythology and aesthetics with the personal search for self. Her writing has been described as "layered and sumptuous," "compelling," and "satisfying."
Visit her website at
www.DebElkink.com
.
Friend her at Facebook at
http://www.facebook.com/#!/deb.elkink
.
Can you tell us a bit about yourself?
I'm an effervescent extrovert but I write all alone on our acreage, staring out the window at an ancient red barn, listening to the creek babbling by and the wind howling in the grasses. I love contrasts: Let me live in the country so that I can enjoy the excitement of a girls' shopping day in the city so that I can slide back into the bucolic peace; let me grow accustomed to the sameness of home so that I can glory in the exotic difference of a foreign land so that I can find comfort again at my own kitchen table.
Where did you grow up?
I was born on the Canadian prairies in southern Manitoba, 450 miles northwest of Minneapolis, and grew up in the city of Winnipeg in a noisy, two-parent family with four siblings and various pets—among them, a talking crow.
What is your fondest childhood memory?
I get nostalgic as I remember the family sitting around a midnight campfire in the Canadian Rockies, singing along with my brother's guitar-playing and listening to Dad spin his tales about riding the rails with the last of the Great Depression hobos.
When did you begin writing?
My first poem, written at age nine and "published" in the school yearbook, gave me a wild craving for more, and I decided then and there that someday I'd be a novelist (though I flirted for a brief moment with the idea of studying medicine). During college a short story appeared in a paying magazine and I was irreversibly hooked . . .
Do you write during the day, at night or whenever you can sneak a few moments?
I'm a binge writer—I can't fathom getting into a scene in spare moments here and there. I tend to "save" my novel until other responsibilities are fulfilled and then spend 15 hours a day in my PJs for months on end fixating on the research, the draft, the edit. It's amazing I don't lose weight!
What is this book about?
Back when she was seventeen Mary Grace fell in love with the French exchange student visiting her family's farm; now a successful costume designer on her way to Paris, she's running away from memories in search of herself. But you should read the fuller jacket blurb if you want the "publicity" version of my story. What
The Third Grace
is REALLY about is my personal longing to connect with women who've forgotten or suppressed their youth—who've turned away from the truth about how "right" it felt to belong to a family, a faith, and a friendship.
What inspired you to write it?
My first visit to Paris inflamed my deep longing for cultural experiences (artistic, aesthetic, culinary, interpersonal) and, as I stood in the Louvre before a marble statue grouping by James Pradier of the Three Graces, I knew I'd found the icon for my future novel. The goddesses—daughters of Zeus and attendants of Aphrodite—speak of beauty and love and the relationships among women, as well as our spiritual relationships. I dedicate this book "to all my lost sisters wandering alone" in an appeal to them to listen and look, not with stony ears and sightless eyes but with hearts of living flesh.
Who is your favorite author?
This changes constantly, depending on whom I'm currently reading and for what purpose. Honestly, sometimes Chicago Manual of Style and Roget's Thesaurus give me the biggest thrill! I just finished a delightful Jodi Picoult marathon to determine which of her plots I like the most (conclusion: either Plain Truth or My Sister's Keeper). But if you mean who do I most admire for language, motif, and meaning, I'd say Joanne Harris (Chocolat), Sue Monk Kidd (Secret Life of Bees), and Mark Salzman (Lying Awake)—for starters!
Where can readers purchase a copy of your book?
The Third Grace is available in print and eBook formats through Amazon, Barnes & Noble, and other online sellers, and the paperback can also be ordered through most bookstores.
Do you have a website and/or blog where readers can find out more?
Visit me at
www.debelkink.com
, where you can find out more about
The Third Grace
, check out my MOTIFS page,
and maybe leave a comment under the ENGAGE button.
Do you have a video trailer to promote your book? If yes, where can readers find it?
What is one piece of advice you would like to share with aspiring authors everywhere?
I would share the words of a wise teacher who answered my frustration about not publishing during my years as a young mom and ranch wife: "Don't fret about writing if you're too busy living; it will all come out in the end."
What is up next for you?
My work-in-progress is a novel in which a Minneapolis salesclerk being harassed by a bag lady is on the verge of her first home purchase, while her best friend is begging her instead to travel along to "sacred sites" around the world. She tours a mansion museum in North Dakota, discovering her own heritage and the true meaning of "home."
Pick up your paperback copy of Deb Elkink's THE THIRD GRACE at Amazon:
http://www.amazon.com/The-Third-Grace-Deb-Elkink/dp/1937573001
Download your ebook copy of Deb Elkink's THE THIRD GRACE at Amazon:
http://www.amazon.com/The-Third-Grace-ebook/dp/B006ABYJNC
Pick up your paperback copy of Deb Elkink's THE THIRD GRACE at Barnes & Noble:
http://www.barnesandnoble.com/w/the-third-grace-deb-elkink/1107067790?ean=9781937573003
Pick up your paperback copy of Deb Elkink's THE THIRD GRACE at Chapters/Indigo:
http://www.chapters.indigo.ca/home/search/?keywords=third%20grace%20elkink&pageSize=12
The Third Grace Tour Page:
http://www.pumpupyourbook.com/2012/08/07/pump-up-your-book-presents-the-third-grace-virtual-book-publicity-tour/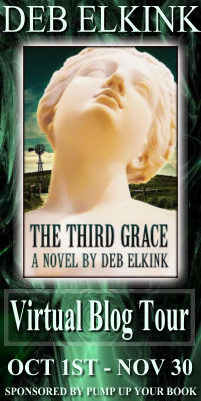 WINNER OF 2012 BOOK OF YEAR AWARD
The past casts a long shadow — especially when it points to a woman's first love.
Her name was Mary Grace until she fell in love with the French exchange student visiting her family's Nebraska farm. François renamed her "Aglaia" — after the beautiful Third Grace of Greek mythology — and set the seventeen-year-old girl longing for something more than her parents' simplistic life and faith.
Now, fifteen years later, Aglaia works as a costume designer in Denver. Her budding success in the city's posh arts scene convinces her that she's left the country bumpkin far behind.
But "Mary Grace" has deep roots, as Aglaia learns during a business trip to Paris. Her discovery of sensual notes François jotted into a Bible during that long-ago fling, a silly errand imposed by her mother, and the scheming of her sophisticated mentor conspire to create a thirst in her soul that neither evocative daydreams nor professional success can quench.
The Third Grace
is a captivating debut novel that will take you on a dual journey across oceans and time — in the footsteps of a woman torn between her rural upbringing and her search for self.
~ ~ ~ NEW KINDLE FIRE HD GIVEAWAY ~ ~ ~
Pump Up Your Book and Deb Elkink are teaming up to give you a chance to win a new Kindle Fire HD!
a Rafflecopter giveaway